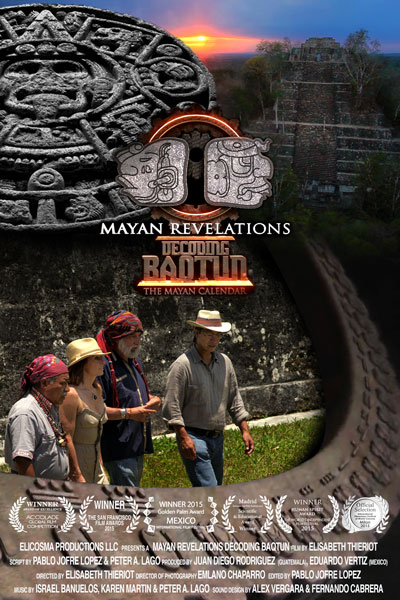 Investigative Journalist, Elisabeth Thieriot, embarks on an epic journey and uncovers previously unseen
Mayan artifacts- the actual first stones that created Mayan Calendar model- and the knowledge never
before shared outside of the Mayan Nation.
During her filming in the jungles of the Yucatan Peninsula and Guatemala, Mayan abuelos dispel the
myths about "the December 21st, 2012 end of the world" conspiracy theories surrounding Aztec and
Mayan Calendars. Specifically, the mystery and fears surrounding the end of "B'aqtun", also known as the
measurement of time that the Mayans identified as a final 3,300-year cycle. ET went on to investigating
why, Maya studied Cosmos as means of guidance for daily life and social stability. That is where most
revelations occurred that differ from believe we held about time, space and the role we can play, when
equipped with their knowledge.
Filmaker Statement
I made Mayan Revelations Decoding B'aqtun for people to understand what the Mayan
calendar represents, how it was built, why it is studied and how it became the most precise
measure of time to this day.
The 2012 end of the world myth was a source of economic, emotional panic resulting in many
suicides from the doom spread by Hollywood's misinformation driven by economic greed.
Decoding B'aqtun dispels this misrepresentation of the Mayan calendar, cycle and history.
Mayan Cycles are based on cosmic position for the duration of three to five thousand of years,
also known as macrocycles.
I have created this documentary to empower people with hidden knowledge Mayan abuelos
have revealed to me. Planets are our guide for what to expect and how to be proactive.
Knowing the universe of natural laws and our connection to it is, what personal power is built on.
The movie takes the fear of the unknown and replaces it with knowledge and understanding.
iBio is shared DNA that exists within all of us, a cellular and vibration hologram. We are all iBio –
one of the bio-organisms that is part of universal intelligence. Once we understand the natural
laws and combine them with our needs, this interlinking allows all we do, to be done with ease.
Decoding B'aqtun teaches us how to use time for our benefit, and what time brings into our
lives, that we must recognize to succeed in harmony with our destiny.
This belief is opposite to current belief that time is our enemy. Mastering how to you use time
combined with benefits of natural process will change your beliefs and habits into a
successful life filled with positive results.
You attract what you desire, and that desire changes as you change. Invest in yourself to be the
best you can be, and that is what you will get out of life. I created Mayan Revelations Decoding
B'aqtun to improve the quality of life for all: people, animals and Mother Earth, as we call our
planet in the solar system.
The supplemental material for a smaller span of time we call microcycles, they are daily and
seasonal rhythms, you can find in the book I wrote "Be Fabulous at any Age."
The microcycles are well explained with a detailed guide of how to use them in our daily lives. It
teaches us to transform, as time goes by with great results.
Animals are our teachers of love and daily habits of circadian rhythm.
Plants are our teachers and are a resource for health through habits of seasonal rhythm.
We learn that what is happening for plants is happening for us too, they shows us what it is to
be one with nature, and how to harmonize with it, for resilience and enjoyment of life.
Streaming: $5.00.
Personal copy: $25.95
Community Screening Licensing: $89.00
Additional shipping and handling will be added for international orders. Charges will appear from Lions Gate Corp.